TILES PP
Covering of modified polypropylene ...

Advantages through innovation ... and save!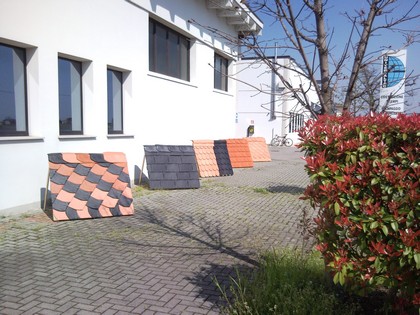 The new covering made of modified polypropylene are the result of technological development in the construction industry, specifically designed to benefit and satisfy poseurs, stackers and conveyors always aiming for maximum satisfaction of the final consumer.

The advantages are cler:

Storage & Carriage:
Quick and easy, thanks to its lightness and strength
Handling:

The changes can be made without special precautions and without effort, as they are lightweight and unbreakable.

Installation & Removal:

- Does not require structures of particular importance. Moreover, the eventual disassembly takes place quickly and without difficulty.

Savings:

The convenience and speed of installation allow a dramatic reduction of labor costs;
- Requires no additional costs after installation, because it does not need any maintenance.

Aesthetics and Design:

The extreme similarity to natural products from which they approach, bring the benefits of technology with the beauty and warmth of tradition.
AN OVERVIEW FOR MORE DEPTH YOU CAN VISIT PRODUCTS SECTION OR CLICK HERE

"TILES"